2″-3″ Diaphragm Pumps
The AMT line of Diaphragm pumps features a 2-stage, heavy duty forged gear driven transmission. Often referred to as Mud or Sludge Pumps, diaphragm pumps are designed to pump mud, slurry, sewage and thick liquids that have the ability to flow. AMT Diaphragm pumps are available with a choice of drivers to meet your application requirements: gasoline, diesel or single or three phase electric motor. Built-in check valve assures self-priming to 20 feet after initial prime. Heavy  duty forged gear driven transmission is designed to operate pump at 40 strokes per minute for electric motor models and 60 strokes per minute for engine driven models. Each unit includes a 2" or 3" NPT steel suction strainer, two NPT nipples and a wheel kit for portability. Models 336E K6, 336G-K6, 335G-K6 and 335E-K6 are kits provided less motor or engine. Suction and discharge port sizes cannot be reduced.
• Sand Cast Aluminum Construction for Portability and Durability
• Thermoplastic Santoprene Diaphragm
• 2˝ or 3˝ NPT Suction and Discharge Ports
• Self-Priming to 25 Ft. Lift
• Maximum Solids Handling up to 1-5/8˝
• Modular Component Design Permits Easy Maintenance and Cleanout
• Driver Options: Gasoline, Diesel or Electric Single & Three Phase Motors
• Delivers up to 90 GPM
• 90° Rotatable Base on All Models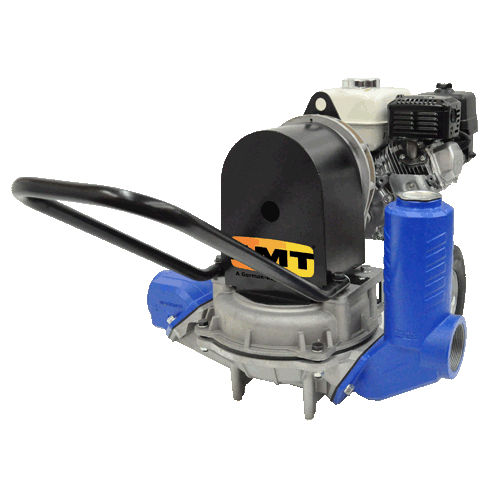 2″-4″ GR Trash Pumps
The Gorman-Rupp line of Engine Driven Trash pumps (12D1,13D1,14D1 Series) are designed for applications which require high flow efficiency and solids handling capability. Pumps are constructed of heavy duty sand cast aluminum components featuring replaceable ductile iron impeller and steel wearplate. Simple front cleanout design permits easy removal of trash and debris without disconnecting hoses. Pumps are available with Honda gasoline engines. All are furnished with heavy-duty steel roll cages, suction strainers and 90° discharge elbows.
• Cast Aluminum Construction
• 2˝ to 4˝ NPT Port Size
• Solids Handling to 2˝ Diameter
• Viton®/Silicon Carbide Mechanical Seals
• Self-Priming to 25 Ft.
• Available with 5 HP to 13 HP Honda Gasoline Engine
• Heavy Duty Steel Roll Frame
• Suction Strainer and 90° Discharge Elbow Included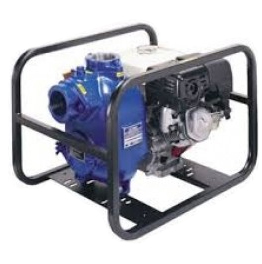 1-1/2″ and 2″ Sprinkler Booster
AMT Sprinkler/Booster pumps feature 300 Series Investment cast stainless steel closed impellers for high efficiency and resistance against erosion caused by abrasive particles. All models self-prime to 20 feet. Single stage models feature dual volute design to reduce radial load on motor and a built-in check valve to ensure fast priming after initial liquid is added to the pump. Cast iron construction provides durability and low maintenance. Easy cleanout design includes replaceable dual volute/diffuser and casing o ring for servicing. Twostage models provide additional pressure in fractional horsepower sizes for multi-sprinkler head applications. Type 21 mechanical seals handle maximum working pressure to 150 PSI. Pumps are available from 3/4 to 7-1/2 HP with Open Drip Proof (ODP) or Totally Enclosed Fan Cooled (TEFC) motors.
• Cast Iron Construction with 300 Series Investment Cast Stainless Steel Impellers
• Buna-N Mechanical Seal and O-Ring
• Optional Viton® Seal, Check Valve and O-Ring Available on Single Stage Models
• 1-1/2˝ or 2˝ NPT Ports Sizes
• Maximum Temperature 180° F
• Maximum Flow 157 GPM
• Maximum Head 180 Ft.
• Self-Priming to 20 Ft.
• Single Stage (379/365 Series) Two Stage (478 Series) Construction
• Single Stage Models Feature Removable Dual Volute Design
• Available with 3/4 to 7-1/2 HP Single or Three Phase Motors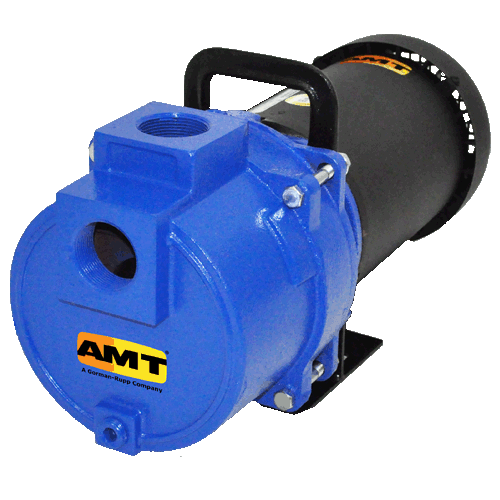 2″-3″ Solids Handling Pumps
The AMT line of Engine Driven Solids Handling pumps offers an upgraded debris handling capability in wear resistant cast iron construction. Applications include: high volume liquid transfer, irrigation, commercial draining and construction. All models feature durable all cast iron construction and clog-resistant impeller to ensure a long life for the complete pump. Dual volute design reduces radial load on engines.
• Heavy Duty Cast Iron Construction
• Buna-N or Viton® Mechanical Seal Options
• 2˝ to 3˝ NPT Port Sizes
• Self-Priming up to 20 Ft.
• Semi-Open, Clog Resistant Impeller
• Engine Options: Honda, Briggs & Stratton Gasoline or Hatz Diesel
• Electric Start Options Available
• Heavy Duty Steel Roll Frame Included
• Optional Wheel Kit Available
• Built-in Check Valve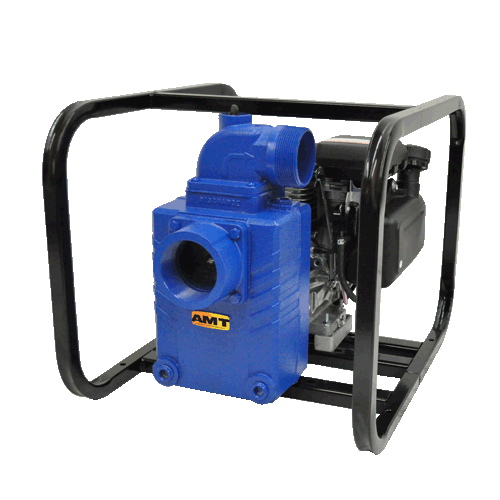 Heavy Duty Straights
AMT Heavy Duty Solids Handling End Suction Centrifugal pumps are suited for liquid and chemical transfer, heating and cooling, recirculation, booster service, dirty water and other industrial applications. Stainless steel units are especially effective in applications where rust and/or corrosion can develop in systems. Semi-open impeller features self-cleaning ability that makes the unit useful in
applications involving up to 1/8″ diameter solids and muddy or dirty liquids, as well as clean, clear fluids. Discharge position can be adjusted in 90° increments with vent and drain plugs for all positions. Type 21 mechanical seal and O-ring casing seal. Pumps are close coupled to Totally Enclosed Fan Cooled (TEFC) motors. Pumps are not self-priming and require flooded suction.
• Available in: 300 Series Investment Cast Stainless Steel, Cast Bronze and Cast Iron Construction with Stainless Steel Impeller
• Buna-N Mechanical Seal and O-Ring on Cast Iron Models
• Viton® Mechanical Seal and O-Ring on Stainless Steel and Bronze Models
• Optional Silicon Carbide SealsAvailable
• Front Drain Plugs Located 90°Apart
• Maximum Head 194 Feet (84 PSI)
• Maximum Flow 500 GPM
• 2 HP to 15 HP NEMA Motors, Single and Three Phase
• Optional Mounting Base Available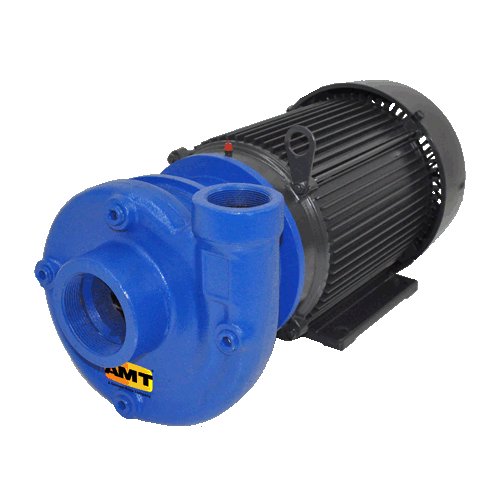 12 Volt DC Submersible
The AMT Submersible 12 Volt DC pump is designed for use in dewatering applications where limited or no electricity is present and for emergency back-up during power failure. The pump weighs 33 pounds and is constructed of aluminum with cast iron impeller. Unit comes assembled with 30 foot power cord, which has battery clips for easy attachment to 12 volt battery.
• Aluminum Construction with Cast Iron Impeller
• 1/3 HP, 12 Volt DC 30 Amp Motor
• 1-1/2" NPT Discharge
• Buna-N Mechanical Seal with Carbon and Ceramic Faces
• Operates Approximately 60 Minutes on Fully Charged 55 Amp-Hour Battery
• Built-In Carry Handle
• Steel Strainer Built into Pump
• Overload Protection
• On/Off Switch
• Maximum Flow 42 GPM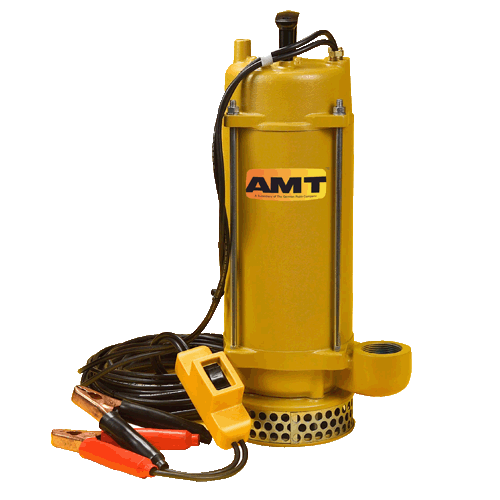 IPT Submersible Pumps
Slim-design, light weight CSA listed submersibles feature top discharge as well as cast-iron impellers, 304 stainless steel casing, motor housing, shaft and hardware. Pump motor is thermal overload protected. An optional piggyback mercury-free float switch is available. Float Switches: The mercury free liquid level control has a piggyback plug molded to the cord allowing the pump motor to plug into the cord and then plug the entire assembly into a standard grounded outlet.
• 304 Stainless Steel Casing, Motor Housing, Shaft and Hardware
• Cast Iron Impeller, Top and Pump End
• Light Weight Slim Design
• Oil Lubricated Seals, Nitrile O-Rings
• Lower Seal — Silicon-Carbide, Viton®
• Upper Seal — Carbon Ceramic, Viton®
• Thermal Overload Protected
• 2" NPT Discharge
• 1/2 to 1 Horsepower